■ Chouseiden (95㎝ × 60ⅿ & 30ⅿ) 55g/㎡ White & Unbleached color. This is one of the top quality shoji paper. Sunshine light through mulberry shoji paper is very soft and gentle. please try by all means once.
■Chouseiden-Unryu (95㎝ × 60ⅿ & 30ⅿ)50~55g/㎡ White base. The volume of Unryu is definitely different from any others.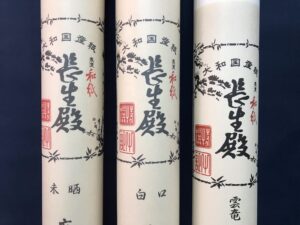 ■Yosino (95㎝ × 60ⅿ), Wide type 1 (120㎝×30ⅿ), Wide type 2 (144㎝×30ⅿ)   64g/㎡  Pulp 70% Reyon 30%
Yoshino is the thickest, easy to stick and most popular shoji paper among our Pulp Reyon shoji papers.
■Yoshino Unryu (95㎝ × 60ⅿ) Wide type (133㎝×30ⅿ)  58㎡  Pulp 50% Rayon 45% Vinylon 5%


Due to the bold luster and beauty of Unryu, it is the most popular product among our Unryu Shoji paper.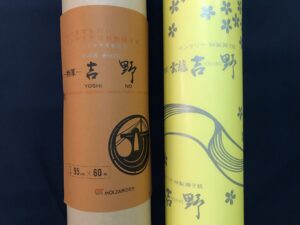 ■Other Pulp Rayon Shoji Paper 95㎝ ×60ⅿ
(except to Shin shoin 50ⅿ)
We have a large number of products available depending on the application and budget.

We can also propose your own original brand shoji paper.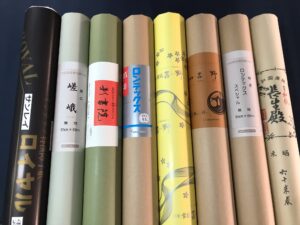 Each Products (It is in descending order of price)
Product Name

Spec

Material

Features

Lontex Special

64g/㎡ 

Pulp 60%
Rayon 35%

Top quality in Pulp/Rayon Shoji

Lontex Special Unryu

64g/㎡

Pulp 65%
Rayon 30%

Top quality in Pulp/Rayon Shoji of Unryu

Yoshino

64g/㎡ 

Pulp 70% Rayon 30%

Most popular model as the Extra thickness

Yoshino Unryu

58g/㎡ 

Pulp 50%
Rayon 45%

P

roud of the beauty of Unryu.

Yamatoji

58g/㎡ 

Pulp 50%
Rayon 45%

We have Unryu with same spec

Kinkaku

62g/㎡ 

Pulp 70%
Rayon 25%
Polyester 5%

High Durability due to the poly effect, and has excellent dimensional stability.

Lontex

53g/㎡ 

Pulp 65%
Rayon 30%

Representative Shoji paper of Mino Production

Sunray Royal

62g/㎡ 

Pulp 50%
Rayon 25% Acrylic 20%

It is thick, strong and easy to work

Sunray Royal Unryu

59g/㎡ 

Pulp 50% Rayon 45%

It is thick, strong and easy to work

Minokuni Ichiban

60g/㎡ 

Pulp 65% Rayon 35%

Functional with less loosens due to rain.

Shin Shoin

63g/㎡ 

Pulp 60% Rayon 35%

Asuka

53g/㎡

Pulp 85% Rayon 10%

Beautiful and value-for-money Shoji paper

Asuka Unryu

54g/㎡

Pulp 85% Rayon 10%

Beautiful and value-for-money Shoji paper

Saga

54g/㎡

Pulp 85% Rayon 10%

Economical Leader model