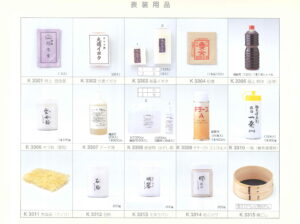 ■ K3301 Bouchu-kou / Insect-proof scent   Material : Natural fragrant wood only (white sandalwood, cloves, cinnamon bark, borneol, etc.) 10pcs/box
Our " Bouchu-kou " is a product jointly developed with the long-established incense stick "Shoyeido", including incense sticks that use only natural incense sticks and herbs that have been in business for over 300 years in Kyoto. The repellent effect (insect repellent effect) and its scent of sandalwood, cloves, cinnamon bark, and borneol, which are the crystals of the wisdom of our predecessors, are noble and effective, and are highly evaluated. If you put it in a hanging scroll paulownia box or paper box, it is an insect repellent incense made only of natural materials, so unlike chemical insect repellent incense, it will not affect the hanging scroll even if it is used for a long time. I hope you can use it for your important hanging scroll. Also, please use it for storing art,  clothes, brushes, books, dolls, etc.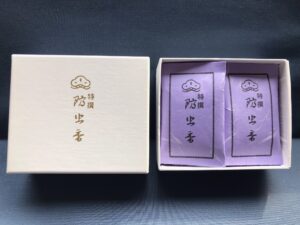 ■ K3302  Manmade Ibota / Manmade chemical Slipper
"Talc" made from fine powder of talc 60% (hydrous magnesium silicate containing a small amount of aluminum silicate) "paraffin wax" 40% (mixture of solid hydrocarbons made from petroleum)  Reasonable price. Commonly used Ibota.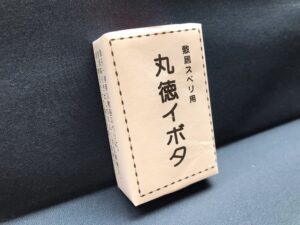 ■ K3303 Crystal Ibota / Natural Slipper
Crystal Ibota is a Slipper made from 100% natural materials secreted by larva of " Ericerus pela (Ibota insect)" . A solidified wax substance "Ibota wax" secreted by the larvae of Ibotaro insect.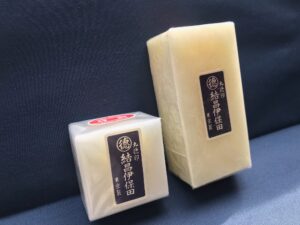 ■ K3304 Shouen / Pine smoke
Soot made by incompletely burning resin-rich pine trees. It is also called pine smoke ink or ink in general. It is mainly used as a pigment.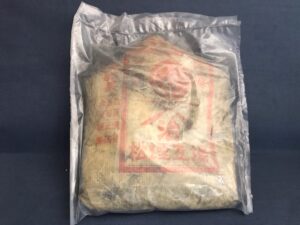 ■ K3305 Kakishibu /Persimmon astringent  1.8 L
" Kakishibu "  has long been used as a paint for waterproofing, antiseptic and insect repellent. Tannins contained in persimmon astringent are absorbed by fibers such as paper and converted into insoluble substances, which gives water resistance, antiseptic and insect repellent effects to Japanese paper, wood, cloth, threads and other coated materials. Taking advantage of the property of allowing air to pass through but not water, it is used for " Karibari" (Japanese traditional work board), astringent paper pattern (Ise katagami, etc.), goldsmith paper pattern, paper cover for paulownia box, etc. At the same time, the unique brown color (astringent color / ancient color) produced by "Kakishibu"  is fascinating, and the number of houses and stores that use Kakishibu paper as wallpaper is increasing. Recently, the strong antibacterial effect of Kakishibu is also attracting attention. Please contact us as we also have order made products according to the application.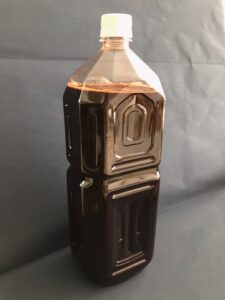 Nowadays, granular persimmon astringents that are easy to store for a long time and are easy to handle without worrying about the smell are becoming popular. Available in 15g, 30g, 100g and 500g.  To use it, dissolve 30g in 1L water and it will return to 1L of persimmon astringency. (Please adjust according to the application) The storage stability has been greatly improved while maintaining the same characteristics as the " Kakishibu " stock solution.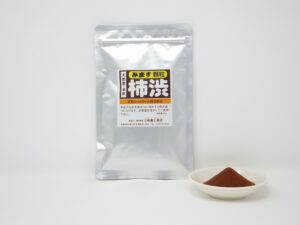 ■ K3306 Kira-ko /  Glitter powder of Mica / 100g
Mica is a type of mineral pigment, a white (silver-gray) pigment made by crushing translucent or transparent muscovite and rubbing it in a mortar. When mixed with other pigments, it gives softness and pearly luster. It is used not only as a pigment for Japanese paintings, but also as a pigment for Momi-kami and Kara-kami.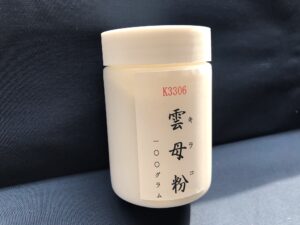 ■ K3307 Dosa Eki / Anti-bleeding liquid   500cc
"Dosa" is a transparent liquid made by adding alum to glue water and when applied to paper or silk, it forms a thin film and prevents the bleeding of ink and pigments. Also, when writing a picture or calligraphy on metal leaf (real gold leaf, brass gold leaf, etc.), pulling a "Dosa"  has the effect of preventing the paint from fixing or discoloring. It should be noted that the effect varies considerably with temperature.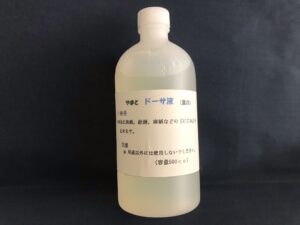 ■ K3308 Hagashi Eki / Liquid to peel off     Big  : 2000cc  Small :  200cc
An aqueous solution for removing the backing paper and the main paper without damaging them when repairing.  Our peeling liquid is mainly composed of a surfactant, and by dissolving the glue component that has solidified water, the peeling work can proceed safely and smoothly.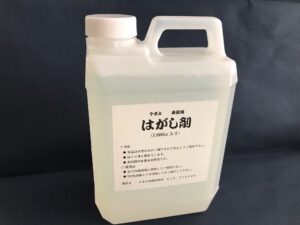 ■ K3309 Chillers A /  Bleeding prevention spray    420ml
It is a strong anti-bleeding the artwork of calligraphy and picture on a paper or silk for hanging scroll and frame. The ink and paint on this paper are fixed and the color tone of the calligraphy is fixed, and at the same time, the life of the ink and paint is extended. Please contact us as we will explain in detail how to use it.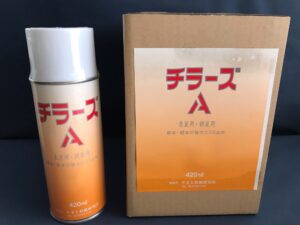 ■ K3310  One Shot / Strong adhesive for "Jikusaki" (Shaft tip)     300g
This is a dedicated adhesive to glue " Jikusaki " to " Jikubou" .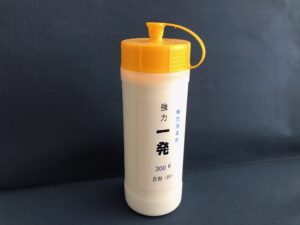 ■ K3311 Funori /  Seaweed glue    50g
It is a Funori (Seeweed glue) that uses only "mafunori" off the coast of Tsushima, Nagasaki, which is evaluated as the highest quality. Harvested from March to May in early spring, and dried in the sun for the summer. The drying process is carried out in the Ise region. (Mie prefecture) Adhesive strength is weak, and glue can be removed without damaging this paper over time. Traditionally, it is used as glue for making hanging scrolls and scroll linings, restoration of cultural properties, and lining of traditional tea rooms.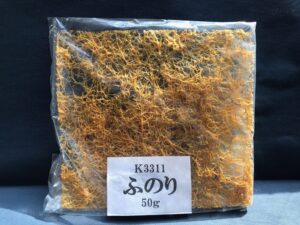 ■ K3312 Ishi ko / Lime stone powder   200g
" Ishiko" is Limestone powder. As a concrete usage of it,  Uda paper (backing washi paper), which is made by squeezing lime powder with mulberry, is famous. By squeezing the lime powder together, the effect of the hanging scroll is very valuable, such as see-through prevention, insect repellent, antioxidant action (burning proof), and elasticity improvement.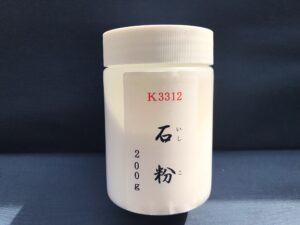 ■ K3313 Myouban /  Alum   200g
Alum is a sulfuric acid crystal of potassium and aluminum, which is a powder that is added to glue water when making " dosa ". Please note that the quality of " dosa " varies greatly depending on the proportion of alum added. The standard guideline is 200 water, 10 glue, and 1 alum, but it is also greatly affected by temperature.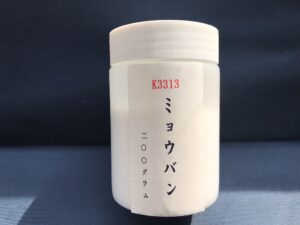 ■ K3314  Nikawa ko /    Japanese traditional powdered glue    200g
"Nikawa" Glue is made by extracting collagen from the skin and bones of animals and drying it.  When using, soak this glue in water overnight and then gently heat it in a water bath to completely dissolve it and make glue. Please note that the adhesive strength will decrease if it is melted at a high temperature. It is used as a material for gold and silver foil stamping,  Gold swing work, pigment peeling prevention, and material of "Dosa".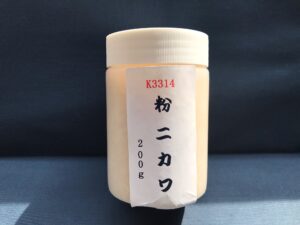 ■ K3315 Norikoshi / Strainer with acrylic net     diameter 21cm
It is used when preparing smooth glue by filtering out glue balls and dust before use.  We used to use horsehair nets before, but nowadays, with the durability and difficulty of procuring horsehair and the number of craftsmen who knit horsehair nets is decreasing sharply,  glue using nylon nets is becoming common.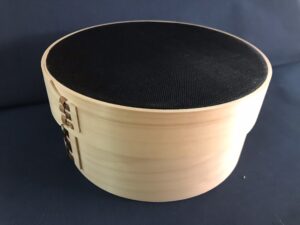 ■ K3315-2  Umage Norikoshi / Strainer with horse hair   diameter 18cm
Horsehair, a natural material, has less resistance than nylon, so it can be used for very smooth glue filtering. Nowadays, the number of craftsmen who knit horsehair is decreasing, and the price is considerably higher than nylon net products because of rare items,  but if you use it, you can see the difference at a glance. Since the number of horsehair nets is limited, there are restrictions, but please contact us for custom-made products of different sizes.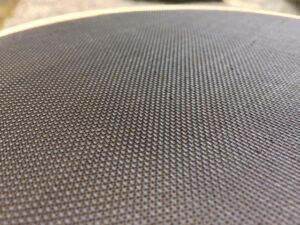 ■ Kanedine /  Strong adhesive for "Jikusaki" (Shaft tip)     Big : 100g    Small : 20g
This "Kanedine" is vinyl acetate resin adhesive. Although it is an adhesive that can be used for various purposes, it is often used for bonding shaft tips in general, especially for gold shafts. The 100g type has 1 bottle, and the 20g type has 12 bottles per box.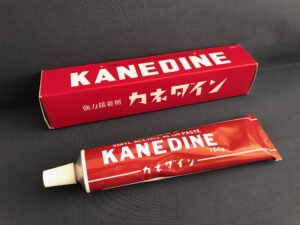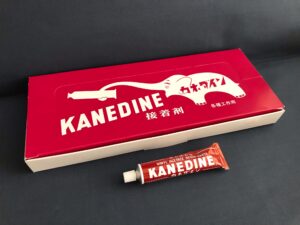 ■ Kinu no Kagayaki / Washing solvent (liquid & powder combination) for Silk    Liquid : 1000cc   Powder : 120g
A washing liquid exclusively for silk (art and calligraphy work on silk), which was developed with the safety of the material first. A set of powder and washing liquid, usually agitated at a ratio of powder 1: liquid 4 to make a solvent, and soak the silk for about 30 minutes to 2 hours to remove stains. Then wash with water. Please be sure to refer to the instruction manual when using. Since there will be a difference in the amount used, it can be sold separately.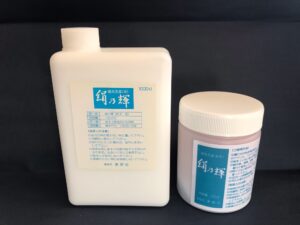 ■ Shihon no Ari / Washing solvent ( 2 liquids combination ) for Paper         Liquid A ・ Liquid B液  each 500cc
A washing liquid for paper (art and calligraphy work on paper) developed to avoid damaging the work or unexpected damage. Dilute solution A twice, apply it evenly to the paper with a brush, leave it for 10 to 20 minutes, dilute solution B with lukewarm water or water, and wash with this paper. It is complete when there is no residual liquid A. Please be sure to refer to the instruction manual when using. Liquid A and liquid B can be sold separately. Unexpected accidents may occur if you wash old paper. If possible, we recommend using wash-curing paper (Y1455 100 cm width ✕ 20 m roll).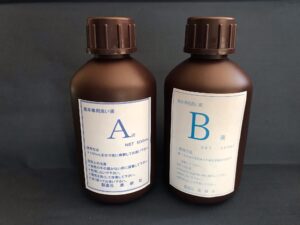 ■ Taiyouno Kagayaki / Ultraviolet bleach              500 cc
The action changes greatly depending on the amount of ultraviolet rays. As it is a strong bleach, please do not use it without sufficient knowledge such as color fixing. Please use at your own risk. To use, dilute the stock solution twice with water and apply it to the bleached product with a spray or brush.  It is UV bleached by exposing the applied material to sunlight. Ordered products.